WooCommerce is the most popular WordPress eCommerce plugin. It is also the most popular eCommerce platform in the world. WooCommerce was acquired by Automattic (the company behind WordPress.com blog hosting service)
WooCommerce has over 75 Million Downloads and 5 Million+ active installs.
There is a large number of addons and themes available for WooCommerce. They also have a passionate developer community behind it. Recently several hosting companies have started creating specialized WooCommerce hosting solutions.
Apart from that, following are some of the most important factors you need to look for when choosing an eCommerce platform.
Payment solutions – Your eCommerce plugin should have support for your preferred payment gateways by default or through an extension.
Design and customization – Your store's design is your customer's first interaction with your business. Make sure there are plenty of templates and easy customization options available
Apps and integrations – Check out integrations available for third-party apps like Email marketing services, CRM software, accounting
Pros of Using WooCommerce
Here are some of the advantages of using WooCommerce as your WordPress eCommerce plugin:
Extensions and Themes – There are hundreds of extensions and themes available for WooCommerce, which makes it easy for you to add new features to your eCommerce site. Large collection of themes means you have tons of options when choosing your site's design and layout.
Supports Both Digital and Physical Goods – With WooCommerce, you can sell physical as well as digital downloads (such as ebooks, music, software, and more).
Sell Affiliate or External Products – Using WooCommerce, you can add affiliate or external products to your site. Affiliate marketers can create product sites and provide users a better experience.
Complete Inventory Management – WooCommerce comes equipped with tools to easily manage your inventory or even assign it to a store manager.
Payment and Shipping Options – WooCommerce has built-in support for popular payment gateways, and you can add many other payment options using extensions. It can also calculate shipping and taxes.
Support and Documentation – There is excellent documentation available online for WooCommerce. Apart from documentation, there is knowledge base, help desk, and community forums available.
Cons of Using WooCommerce
Too Many Options – WooCommerce is very easy to use, but the number of options available on the settings page can be quite intimidating for a new user.
Finding Addons – There are lots of addons available for WooCommerce, sometimes a user may not find the right addon for features that they need.
Theme Support – WooCommerce works with any WordPress theme, but it is not always as easy to setup or good looking with all themes. You need a WooCommerce ready theme to take full advantage of its features without too much hassle.
Scalability – As your store gets larger, you will need to move to a managed hosting provider like WP Engine to scale your WooCommerce store.
WooCommerce is the perfect choice for any kind of eCommerce website. It has a large community of developers and users, a lot of addons and themes, excellent support for multilingual websites, and best free and paid support options.
ng software, etc. You'll need those tools to manage and grow your ecommerce business more effeciently.
Support options – Make sure that there are support options available. Good support can save you a lot of money in the long run.
Why is This One of the Best WordPress Ecommerce Plugins?
The average small store doesn't have to spend any money in order to get WooCommerce. Even the themes and plugins aren't that expensive, so WooCommerce is an economical way to start an online store.
WooCommerce is the most popular WordPress ecommerce plugin. With its affiliation with Automattic and the huge community of developers, it's not going anywhere and you'll have plenty of updates into the future.
Many developers create extensions to solve problems that store owners may have. These extensions allow you to add more advanced ecommerce features without any custom coding. For instance, one simple plugin lets you start a full-fledged membership business.
WooCommerce allows you to sell pretty much anything you want. This includes digital goods, subscriptions, and appointments.
You receive built-in payments for some of the top gateways, along with extensions for most major payment gateways.
Most ecommerce themes made for WordPress are built around WooCommerce. This means that you should hopefully not have any problems with the integration.
Both beginners and advanced users can learn and use WooCommerce with ease. The interface is simple enough for newcomers, while the REST API, documentation, and open development means that advanced developers can make any customization they desire.
Check out our in-depth guide on how to install and configure WooCommerce.
Amazing WooCommerce Facts:
4,414,537 live websites are currently using WooCommerce.
WooCommerce is used by 7.4% of all websites.
WooCommerce powers over 28.19% of all online stores.
22% of the top 1 million ecommerce sites use WooCommerce.
93.7% of all WordPress ecommerce websites use the WooCommerce plugin.
WooCommerce is the most popular plugin/module on the entire internet – with 68% usage distribution.
There are 1,321 WooCommerce themes on ThemeForest alone.
There are 1,453 plugins for WooCommerce on WordPress.org alone.
If you think that's impressive, wait until you see the rest.
WooCommerce Usage Statistics, 2021
Let's hit it off with some raw numbers. They will make it immediately obvious why this platform is that big of a deal.
1. There are currently 4,414,537 live websites using WooCommerce.
And it's not just about quantity. In the top one million sites, there are 61,311 sites using WooCommerce (or 6.13%), which is an increase since last year. Considering this is a highly targeted platform, mostly visited by users with buyer's intent – 6.13% is actually a huge deal!
2. WooCommerce is used by 7.4% of all websites.
This is the percentage of websites using WooCommerce as of January 2021. In comparison, WordPress is used by 39.7% of all sites.
Back in 2018, 5.7% of all websites were using the plugin, and in 2019 just about 4.7%. As other WooCommerce statistics also suggest, the WordPress plugin is constantly growing.
3. WooCommerce has 82.5 million downloads (and counting).
As you can imagine, the number is constantly changing. There are over 82 million downloads in January 2021.
Even though WooCommerce is free, the number is still impressive. For 70 million businesses to decide to trust the plugin – there's bound to be something to it.
4. WooCommerce powers over 29.35% of all online stores.
According to 2021 statistics from Datanyze, WooCommerce is a clear-cut winner. The second-largest market share goes to Squarespace Online Stores with 21.15%, followed by Shopify with 12.69%.
Further analysis of the information in the Datanyze Universe, reveals that WooCommerce is number one because it currently supports 629,227 websites. Squarespace has 453,474, while Shopify falls behind with 272,146.
5. WooCommerce powers 22% of the top 1 million ecommerce sites.
The platform leads the way as the most popular choice among the top 1 million ecommerce sites. It's ahead of both Shopify and Magento, with 18% and 13% respectively.
This is an especially good stat for the platform and speaks well of the WooCommerce market share. And it's even more impressive considering that a lot of these 1 million ecommerce sites, generating the most traffic, have big budgets and probably rely on enterprise solutions. Whereas, WooCommerce and its mother platform WordPress are usually more popular with smaller sites.
In the top 100,000 sites, the leader is Shopify with 21% and WooCommerce is third with 12%. In the top 10,000 sites, Shopify is again at the lead with 23% and WooCommerce shares 4th place with Oracle Commerce with 6%.
WooCommerce is shaping up to be an extremely popular option among smaller businesses. Companies with higher revenue tend to favor Shopify instead.
6. WooCommerce is the second-fastest-growing content management system (CMS).
330 sites that are powered by WooCommerce climb into the top 10 million every day. WordPress is the leader here with 984 daily additions.
WordPress, WooCommerce included, is still the most popular content management system by far – supporting 33% of all websites. That amounts to a WordPress market share of 60.6% among all CMSs. If you think the number couldn't be more astounding, consider that Joomla, the second most popular CMS is trailing behind with a market share of only 5.1%.
7. 93.7% of all WordPress ecommerce websites use the WooCommerce plugin.
When it comes to WordPress ecommerce plugins, WooCommerce is a clear winner. With more than 3.3 million sites using the subsystem, all competitors lag far behind.
So how many sites use those other WordPress plugins? We've already mentioned WooCommerce is used by 7.4% of all websites.
Even Ecwid, which is the second most popular WordPress ecommerce plugin, comes nowhere near WooCommerce. Ecwid supports a total of 122,062 live sites and powers only 0.09% of the top 1 million.
If we do a quick search about WP eCommerce (yet another ecommerce plugin), we'll see it's used by less than 0.1% of all sites and only 0.02% of the top 1 million.
NextWoo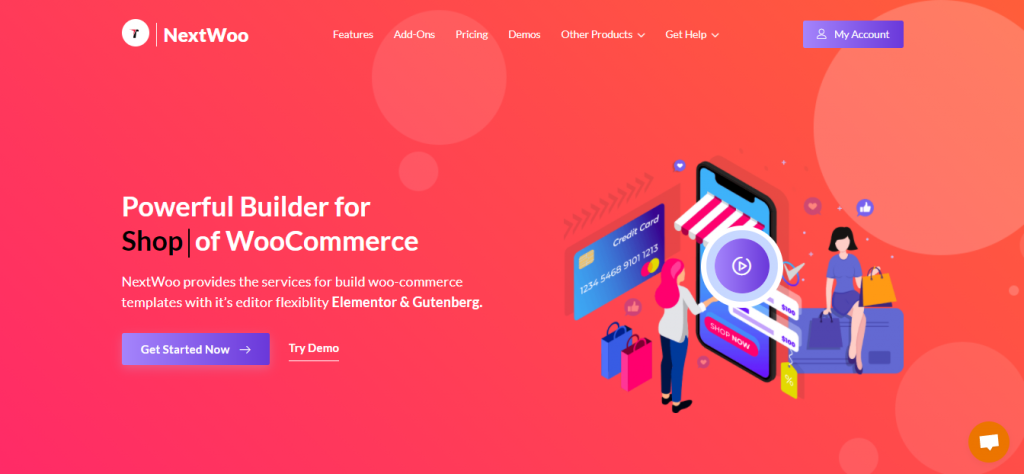 NextWoo provides the services to build WooCommerce templates with its editor flexibility for Elementor & Gutenberg.
NextWoo is a WooCommerce Builder to build Single Product, Cart, Checkout, My Account, Shop Loop, related products, Quick view, Up-sell, Cross sale and so on by Elementor or Gutenberg.
Elementor is a popular WordPress page builder plugin. It lets you easily create custom layouts for your WordPress pages with a drag & drop interface.
Due to Elementor's popularity, there are many WordPress themes made specifically with support for Elementor and Elementor Pro. However, it can be hard to know which will be the best WordPress theme for your needs.
Most Powerful Feature
According to these stats, running an eCommerce business is the safest & smartest way to earn. So why not be a part of it?
Friendly Functions : NextWoo provides the user very easy to use functionality to make their woo-commerce pages more gorgeous.
Easy to Customize : It offers to the user with Versatile customization option to beautify their blog and woo-commerce sites.
'Say No' to Code: User would love to know that NextWoo requires no coding skills.
Editor Flexibility: NextWoo comes with an extraordinary feature that supports both Elementor and Gutenberg page builder.
Friendly Support : Basically we are famous for giving customers instant support. Super friendly support stuff always ready at your service.
Easy to Import Demo: Get a particular ready demo for different pages by onclick.
Theme Compatible: NextWoo has the theme compatibility. It has compatible with couple of themes to design beautiful shop, cart pages.
On Click Install: It has an interesting one-click demo installation feature. Users are able to use those demos for cart, shop, archive, and more woo pages.
If you liked this article, then please subscribe to our YouTube Channel for WordPress video tutorials. You can also find us on Twitter and Facebook.