Search engine optimization (SEO) for your eCommerce store is an equivalent of having someone standing on every street corner in the real world, spinning signs with your store's name and direction.
We have created this ultimate WooCommerce SEO guide to help you improve your WooCommerce SEO and get more customers.
SEO plays an enormous role in where all websites rank in search results, including eCommerce sites. If you want to rank higher and make it easier for people to find your products in search engines, then you need to optimize your site. Getting your products ranked high in search engine results helps you to reach more people and make more sales.
What Is WooCommerce?
In case you did not know, WooCommerce is a completely free eCommerce extension for the most popular Content Management System (CMS) WordPress.
It has the highest marketplace share among the most popular eCommerce solution out there. As it is an open-source eCommerce solution, you can customize it just like the way you want.
Is WooCommerce SEO Friendly?
You will be glad to know that WooCommerce is by default SEO friendly. That's because, it inherits most of the SEO characteristics from its root, WordPress. Here is what you will get in WooCommerce as the SEO boosters:
Search Engine readable webpages with the help of WordPress which is a must for SEO
SEO friendly permalinks from WordPress settings
Guides you to insert an H1 tag which is very important for on-page SEO while writing on a page or post or creating products
Allows optimizing images with appropriate alt tags, description and many more in collaboration with WordPress
Available WooCommerce based SEO optimized themes in WordPress.org
Heaps of SEO plugins for WordPress website in WordPress.org
Cache plugins to speed up page loading time
Mobile responsiveness out of the box
Also, you can share your post or pages in social media with automated social sharing plugins in WordPress based eCommerce site.
And the Friendly WordPress community is always ready to help you if you are in any trouble while using a WordPress site.
How to SEO WooCommerce: 10 Tips
We've hinted about all of the customizations that are possible with WooCommerce, but not a lot about how to SEO WooCommerce. Let's fix that.
Here are 10 WooCommerce SEO tips to get you climbing in those search results.
1. Always Include a Product Description
Product descriptions are typically not long, but they should be treated as bite-sized bits of content. This means taking the time to make sure they're well-crafted and search engine friendly.
Check out this product description for a pair of socks from Odd Pears. They use keywords throughout, but the description itself is engaging and funny content.
2. Optimize Page Titles
Page titles should be descriptive enough to tell both searchers and search engines what your page is about. For most eCommerce sites, you'll have category pages and product pages.
Category pages not only help shoppers find the products they're looking for, but they prevent individual product pages from competing with one another in search engine results.
3. Enable Breadcrumbs
Breadcrumb links appear along the top of product pages and help visitors move back to the previous category or landing pages easily. They show visitors where they are and where they've been.
4. Make Site Navigation Simple
We've already talked about breadcrumbs, but there are other ways to ensure that visitors don't get lost and frustrated on your eCommerce site.
Clean and simple site navigation can have a big impact on your bounce rates and time spent on site. If visitors are spending more time on your site, your site is likely to rank higher in search results.
You can improve your site's navigation by keeping your main navigation easy to follow. Google will crawl every page on your site, but visitors definitely won't.
5. Keep URLs Short and Descriptive
For those of you using WooCommerce and WordPress, go ahead and enable WordPress permalinks to make sure your URLs are accessible to visitors and search engines alike. To do this, go to Settings » Permalinks and choose a URL structure.
6. Write Your Own Meta Descriptions
Meta descriptions don't actually help your SEO directly, but they can go a long way to improve your clickthrough rates. They show up under the title of a search results entry and describe the content. Meta descriptions give you another way to entice searchers to click.
Google sometimes uses meta descriptions from a page to generate a search results snippet. Because of this, Google recommends that each page of your site have its own unique meta description. You can edit meta descriptions using the Yoast plugin.
7. Add Alt Text to Images
Adding alt text to images is helpful in a couple of ways.
For starters, it makes your site accessible to people who rely on page readers to browse.
Second, alt text can give you an SEO boost.
Alt-text is what shows up if your image doesn't for some reason. You should use clear and concise alt text that provides a good description of the image. Alt-text is a great place for keywords, but don't forget that keywords need to always make sense and flow naturally.
8. Avoid and Consolidate Duplicate Content
Duplicate content is a tricky little beast. If you have pages on your site that are very similar to other content on the web, Google might remove your content from their rankings.
You might need to watch out for duplicate content if:
you're using the same content in multiple areas of your site
you regularly publish or share press releases
you own several websites with similar content
The easiest way to make sure that your content will be ranked high is to write and publish original content. But, what can you do about content that already exists?
9. Take Advantage of the Best SEO Plugins for WooCommerce
WooCommerce comes with thousands of extensions and plugins you can use to grow your business. With so many plugins available, it can be overwhelming to find the best ones to help you with the SEO for your WooCommerce site.
10. The best SEO for WooCommerce
WordPress is the most search engine-friendly website builder in the world. To take full advantage of the existing SEO functionality in WordPress make sure your WooCommerce site uses a theme built for SEO.
Here are a few of the best SEO for WooCommerce.
NextWoo is a popular all-purpose WordPress plugin and it comes with a large library of pre-built websites you can choose from, including designs specifically for eCommerce.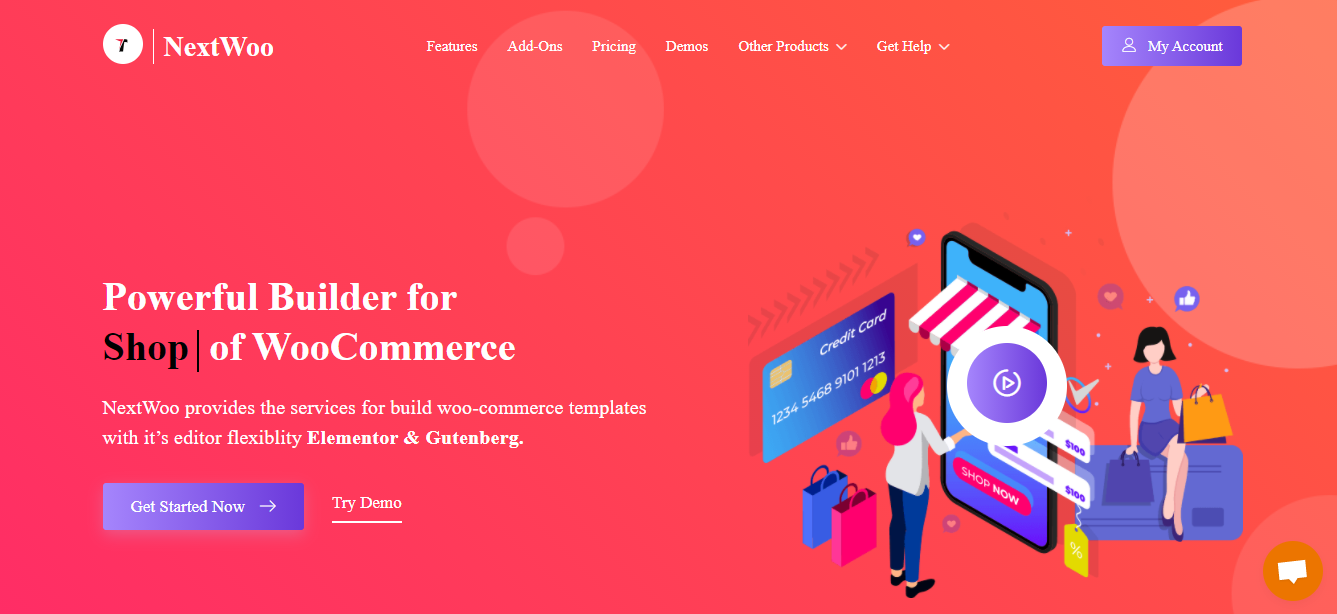 NextWoo is a WooCommerce Builder to build a Single Product, Cart, Checkout, My Account, Shop Loop, related products, Quick view, Up-sell, Cross sale, and so on by Elementor or Gutenberg.
Elementor is a popular WordPress page builder plugin. It lets you easily create custom layouts for your WordPress pages with a drag & drop interface.
Due to Elementor's popularity, there are many WordPress themes made specifically with support for Elementor and Elementor Pro. However, it can be hard to know which will be the best WordPress theme for your needs.
Most popular WordPress page builders function in very similar ways. They provide visual editor components, drag-and-drop functionality, and ready-to-go modules. For this comparison, however, compatibility with WooCommerce is a must.
If you liked this article, then please subscribe to our YouTube Channel for WordPress video tutorials. You can also find us on Twitter and Facebook.