A project roadmap is a graphical, high-level summary of the project's goals and deliverables that is displayed on a timeline. As a result, the project roadmap can be used to manage stakeholder expectations, communicate plans, and coordinate resources with other groups.
What is a Project Roadmap?
Project roadmaps give a strategic overview of the project's primary components. Objectives, milestones, deliverables, resources, and a specified timetable should all be included.
Project managers can use roadmaps to convey a project's strategic objectives to stakeholders as well as to maintain track of their project's progress on an ongoing basis. A project plan should express the strategic justification for pursuing the project in the same way that a product roadmap does.
Why do you need a project roadmap?
When you begin a project, there are likely to be a lot of factors to keep track of. How do you keep track of everything? How is the workload distributed among your team members? What's more, how can you stay on top of all the duties, ideas, and resources without becoming mired down in the details?
A roadmap gives you a bird's eye view of the project without becoming bogged down in the nitty gritty. As a result, project managers who are responsible for keeping stakeholders informed about a project's scope and progress will find it useful.
How can a project roadmap help you?
Here are some of the ways a project roadmap can help your project management:
Communicate goals to your team
A project roadmap is a highly graphic document that explains your project's aims and objectives. When your team understands its goals, it's easier for them to concentrate on specific activities.
It also provides a high-level overview of the project, which can aid you and your team in estimating the time needed to finish each step. It also serves as a reminder to your team of the project's baseline, ensuring that they do not get sidetracked throughout the execution phase.
Recognize priority tasks
A project management roadmap can assist you in determining which stages of your project require the most attention. It can also provide a rough idea of the level of difficulty and effort required. Product maps are usually the result of further development of these stages.
Product roadmaps are similar to project roadmaps, except they focus on the vision and life cycle of a specific product.
Communication with stakeholders 
According to a KPMG project management survey, only one out of every three firms develop projects that are likely to satisfy their stakeholders.
Stakeholders expect teams to adapt minor adjustments during the execution phase, which has resulted in unhappiness. As a result, projects vary from their initial objectives, resulting in lost productivity.
By ensuring that everyone on your team is on the same page, a project management roadmap can help you minimize miscommunication between stakeholders and your team. It can help explain to stakeholders what measures were taken during the project's implementation.
What is the Roadmap of Next3 AWS?
We are happy to share the roadmap of our journey with you.
Next3 is Amazon AWS S3 Console's enhanced service. With Next3, users may upload files, create infinite buckets, and store folders.
Roadmap of Next3:
Server-side optimizer: Server-side improvements can improve loading speed and TTFB significantly.
Frontend optimizer: Decrease your loading speed by optimizing your frontend code.
Digital Ocean: Connect to Digital Ocean (a.k.a. AWS) to offload media and improve the performance of your websites.
Google Drive: Connect to Google Drive (like to Amazon Web Services) to dump material and super-optimize your webpages.
Image Compression & WebP Images: The use and loading time of your media and photos can be considerably reduced by optimizing them.
Backup Media: Before transferring your media files to AWS S3, make a backup of everything. Backups can be scheduled automatically.
Import Media: To upload to AWS S3 Bucket, choose a [.json] file. WP media from other websites will be imported here.
Export Media: Export all WP Media files to must be select Type(All media, Already Uploaded to AWS, Not upload to AWS).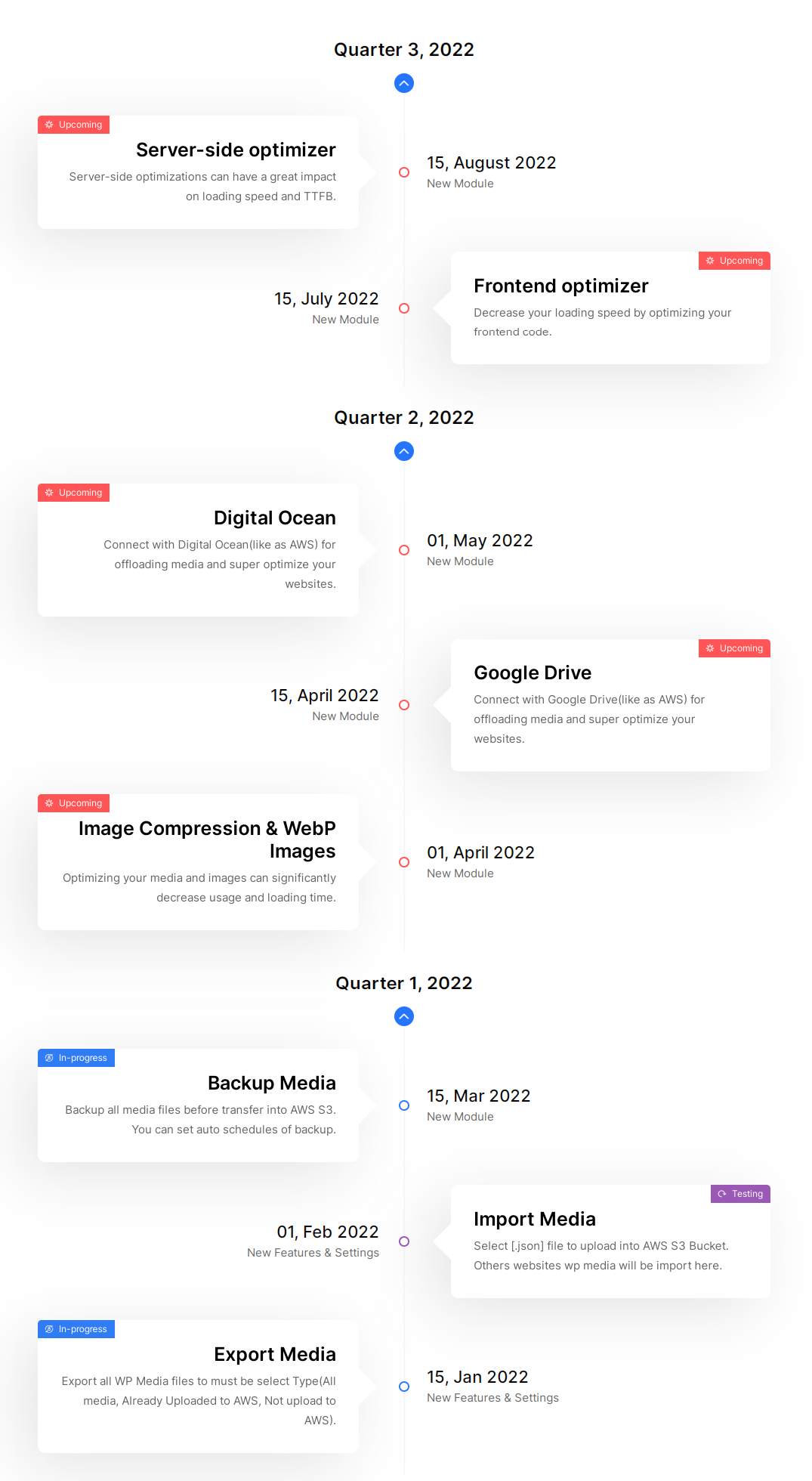 Note: 7 days trial of Next3
Increase your website speed now! and Make your website blazing fast by offloading your files. Buy now for PRO version.
Challenges of a project roadmap
Despite its advantages, a project plan has its own set of difficulties.
Your plan should simply give a high-level overview of the project, avoiding specifics that are difficult to grasp at a glance.
Teams frequently place a high priority on research and execution of the project in the roadmap while ignoring testing and feedback.
When your entire team and stakeholders agree on a project roadmap, it's more likely to succeed.
Your project roadmap should primarily serve as a "single source of truth" for understanding goals, objectives, scope, and other high-level details for your stakeholders and project team.
If you liked this article, then please subscribe to our YouTube Channel for WordPress video tutorials. You can also find us on Twitter and Facebook.