As almost anyone who runs a website knows, Google Analytics provides insight into who site visitors are and what they do when they come to a website. Marketers use Google Analytics to understand the effects of marketing campaigns and how a site's user experience impacts factors such as conversion and retention.
The hundreds of metrics and dimensions available in Google Analytics may seem daunting. We've zeroed in on 14 essential metrics for marketers, how to find them in the Google Analytics dashboard and via the API, and how marketers can use them to make data-driven business decisions.
Google Search Console
Google Analytics
Rank tracking
Analytics tips and best practices
The saying What gets measured gets improved is 100% correct in SEO. Using the right tools to track and analyze your website's performance will help you answer important SEO questions, such as:
What keywords you rank for in Google
What is the click-through rate of your pages in search results
What country your visitors come from
What channels bring you the most traffic
How your visitors engage with your pages
What are your most visited pages
To help you understand the basics, we'll cover 3 important analytics tools every website owner should have: Google Search Console, Google Analytics, and a rank tracking tool.
Google Search Console
Search Console is a free online tool (or a series of tools) by Google that helps webmasters see how their site is performing in Google Search and optimize the visibility of their websites.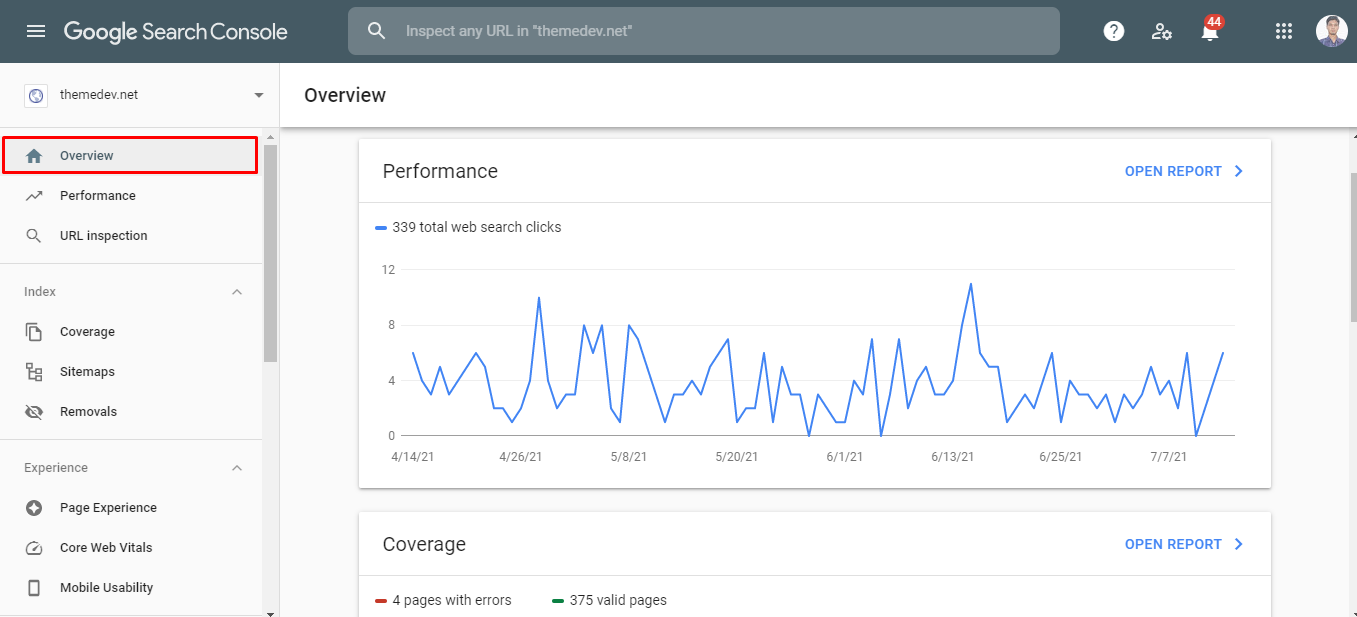 Search Console consists of several dashboards from a basic overview of your website's performance to reports of critical issues that you should address.
Performance – gives you insights into how your site performs in Google Search results
URL inspection – gives you information about Google's indexed version of any of your pages
Coverage – shows what pages are indexed on Google and reports any issues with indexation
Sitemaps – enables you to add a new sitemap and see your previous submissions or problems
Removals – serves as a tool to temporarily block any page from search results
Enhancements – provides information about your enhancements (such as AMP, sitelinks, etc.) and user experience and usability issues
Manual actions – shows whether you have any manual penalty from Google
Security issues – reports any detected security issues on your site
Links – provides a basic overview of your links (both external and internal)
The report you'll spend the most time with and the one we'll take a closer look in this chapter is the Performance report.
Performance report
The Performance report will give you a detailed overview of your site's performance in Google Search.
It consists of 3 main areas you can configure to see the data you need:
Top filter – allows you to select the search type, date range and filter the dimensions
Metrics chart – shows the chart with the 4 main metrics (clicks, impressions, average CTR and average position); you can select any combination of the metrics by clicking on them
Dimension tabs with data table – allows you to select the preferred dimension and see the data in a simple table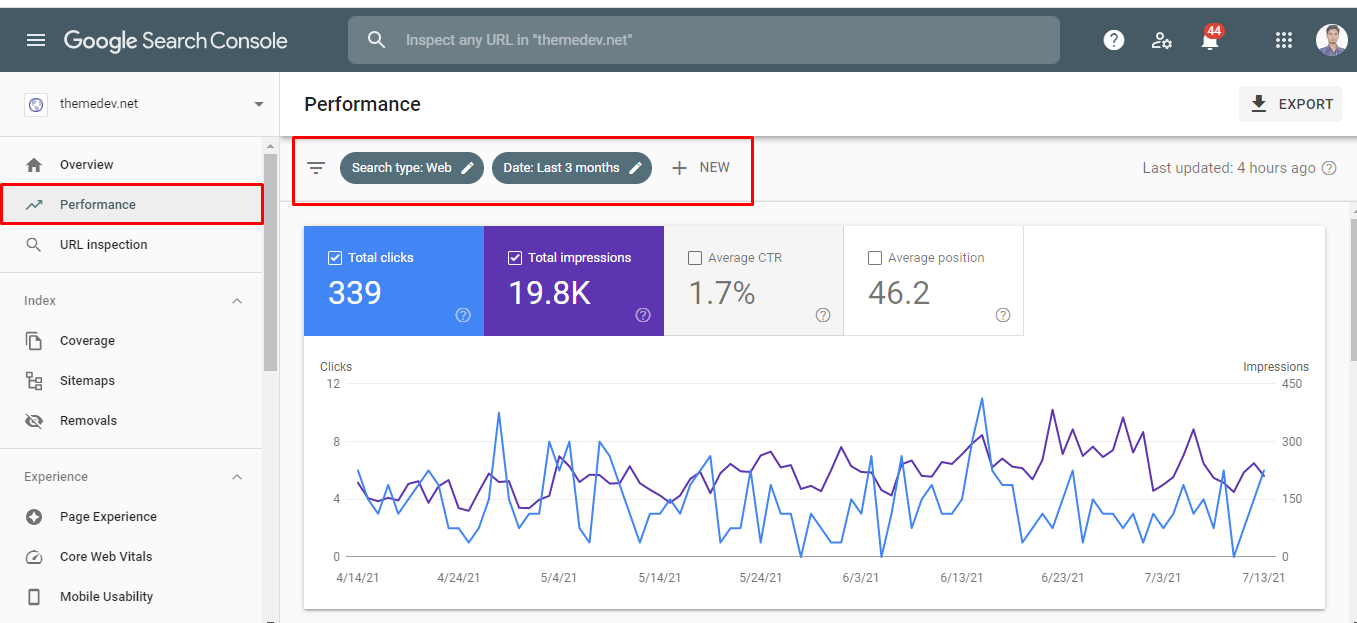 Besides the basic (but very useful) data like top queries or top pages, the Performance report is a goldmine of various deeper insights into your site's search performance.
Find pages that need the CTR optimization
Look at the top-performing queries that have a low click-through rate (either using the Average CTR metric or comparing the Impressions and Clicks).
There's a high chance you can improve the CTR by writing a better title tag and meta description for the page that ranks for the query.
Google Analytics
Google Analytics is a free website analytics tool that tracks and reports website traffic and user behavior. It is a powerful tool that offers a ton of useful data.
What kind of data can you find in GA?
Google Analytics consists of various reports.
The home dashboard will show you a quick overview of the basic performance metrics. To see more, you can navigate to the detailed reports.
The reports are divided into 5 main categories based on what kind of data they provide. You can find them in the left menu.
Real-time – the users' activity as it happens in real time
Audience – everything you need to know about your visitors (demographics, interests, technology used, etc.)
Acquisition – where your traffic comes from (traffic channels, top referring pages, etc.)
Behavior – what the visitors do on your website (what pages they visit and how they engage with them)
Conversions – details on how your visitors convert (in accordance with your goals; e.g. purchase, subscription, affiliate link click, etc.)
Data segmentation
In each report, you can further segment the data to see detailed results based on your specific needs.
Date range
Selecting the right time frame is the first thing you should do when working with any analytics tool.
You can find the date range selector at the top right of every report. It enables you to look at the data within various time frames or compare two time periods.
Segments
The segment is any subset of data in Google Analytics. You can select one of the default segments (e.g. Organic Traffic, Mobile Traffic) or create and save a new one to speed up your workflow..
The most useful metrics
Google Analytics comes with various metrics that measure three things:
How much traffic you get (acquisition metrics)
How people engage on your site (behavior metrics)
Achievement of your goals (conversion metrics)
Traffic acquisition metrics
The most common traffic acquisition metric often get confused so here's a quick explanation of the differences between them:
Users – a user is an individual visitor to your website, more visits by the same user don't increase the number of users
Sessions – session a period of time when the user is actively browsing your website (up to 30 minutes of inactivity); one user usually visits several pages within one session
Pageviews – a pageview is counted every time a visitor visits a page; if the page is visited repeatedly by one user, multiple page views are counted (so the number of pageviews is always higher than the number of sessions).
Pages per session
This metric shows you how many pages a user visited within one session on average.
Pages per session metric can be a good indicator of the overall engagement. To improve the ratio, think about the ways to make your visitors click on other pages:
Add related products/posts
Insert "further reading" boxes
Link to relevant pages in the text
Average time on page / Session duration
Both time-based metrics in Google Analytics have their issues when it comes to accuracy so we don't recommend drawing any big conclusions based on these two metrics.
Rank tracking
Rank tracking is the process of monitoring how your website performs in search engines for your most important keywords.
The main advantages of using a rank tracker:
You can see daily updated positions of your most important keywords
You are able to quickly detect any significant ranking drops or spikes through automatic reports and alerts
You can track your progress is a specific location (e.g. country or city)
You also see relevant metrics to see the actual impact of the changes (e.g. the search volumes of the keywords)
You can track your competitors to compare your results
Analytics tips and best practices
We'll conclude this chapter with some useful tips on how to effectively measure your performance.
Watch the overall progress, dig into details
Your performance will most probably fluctuate from day to day. That's why it's always good to look at the bigger picture rather than obsessing about every little change on a daily basis.
Always try to understand the context
Don't take the data as granted but look for the reasons why something happened.
For example, when it comes to troubleshooting the ranking drops, there may be various reasons, both internal and external:
Recent changes on the website
Google algorithm update
Technical issues or website outage
Google manual action
An error in the rank tracking tool
A thorough examination of Google Search Console, Google Analytics and your rank tracker should give you a better understanding of the problem – which means you'll be able to make an informed decision about your next steps.
If you liked this article, then please subscribe to our YouTube Channel for WordPress video tutorials. You can also find us on Twitter and Facebook.