Email newsletters are the most common type of emails in email marketing. Email newsletters are a type of email that informs your audience of the latest news, tips, or updates about your product or company.
Do you want to create an email newsletter for your WordPress site? Creating an email list is one of the best things you can do to grow your business.
An email newsletter allows your website visitors to subscribe, so they can receive email updates from you about your blog, new sale promotions, etc.
What is an Email Newsletter?
An email newsletter is a form of online communication that allows you to send news, tips, and updates about your product, business, or non-profit.
In order to receive these updates, people need to join your email list by providing their email address. These users are referred to as subscribers, leads, or contacts.
Organizations and individuals use email newsletters in many different ways. For example, businesses use email newsletters to send users product information, new arrivals, and latest updates.
Why Start an Email Newsletter?
Did you know, that more than 75% of people visiting your website today will never find it again?
It is not your fault, it's just that the internet is so huge and there is a lot of content out there.
Starting an email newsletter will allow you to convert those website visitors into subscribers. Once they join your email newsletter, you will be able to stay in touch and bring them back to your website.
Basically without an email newsletter, you are losing potential subscribers and customers every day.
Now you may be thinking, ' What if we ask users to follow us on social media? Wouldn't that provide a way to contact those users?'
It will, and you should definitely build a social media following. However, you don't own those social media platforms.
Social media giants like Facebook and Twitter limit your audience's reach. More importantly, most of your users may not be checking their social feeds as often.
Who Should Start an Email Newsletter?
Many of our users often ask us if they should make a newsletter for their business, blog, or organization. Our answer is always 'Yes'.
Even if you are just starting out, you should start building your newsletter from day 1. Each day you are not doing this, you are losing money, subscribers, and potential customers.
Email marketing is a win-win situation regardless of your industry, business, or website traffic.
1. Email Marketing for Small Businesses
Business websites, regardless of their industry or size, can always benefit from creating a newsletter.
It is the most cost-effective way to stay in touch with your existing customers, website visitors, and potential customers.
2. Email Newsletter for Ecommerce Websites
A study found that more than 44% of email recipients have made at least one purchase because of a promotional email.
If you run an online store, then email marketing is the most effective tool to convert abandoned carts into paying customers.
3. Email Newsletter for Non-Profits
Non-profit organizations need to reach out to their supporters for donations, support, events, and more. Other mediums like social media, phone, and physical mailing all cost a lot more money than email marketing.
Starting an Email Newsletter
The most important thing you'll need to start your email newsletter is an email marketing service provider. These are companies that allow you to collect email addresses and send mass emails.
There are literally hundreds of email marketing services in the world including Next Campaign, MailChimp MailWizz SendInBlue, GetResponse, & Active Campaign and many more.
After trying out almost every popular email marketing service, we recommend our users to use Next Campaign. They are one of the most popular email marketing service providers in the world, and their support is great in helping people get started.
Constant Contact offers a beginner friendly email marketing platform with simple drag and drop tools to help you quickly get started. They also have advanced email list growth tools, marketing automation, eye catching templates, and more.
Next Campaign is the ultimate campaign solution for Email Marketing that integrated with MailChimp MailWizz SendInBlue GetResponse & Active Campaign
Next Campaign is a total campaign solution for Email Marketing. It designed to reach out to subscribers at the best time and provide relevant offers.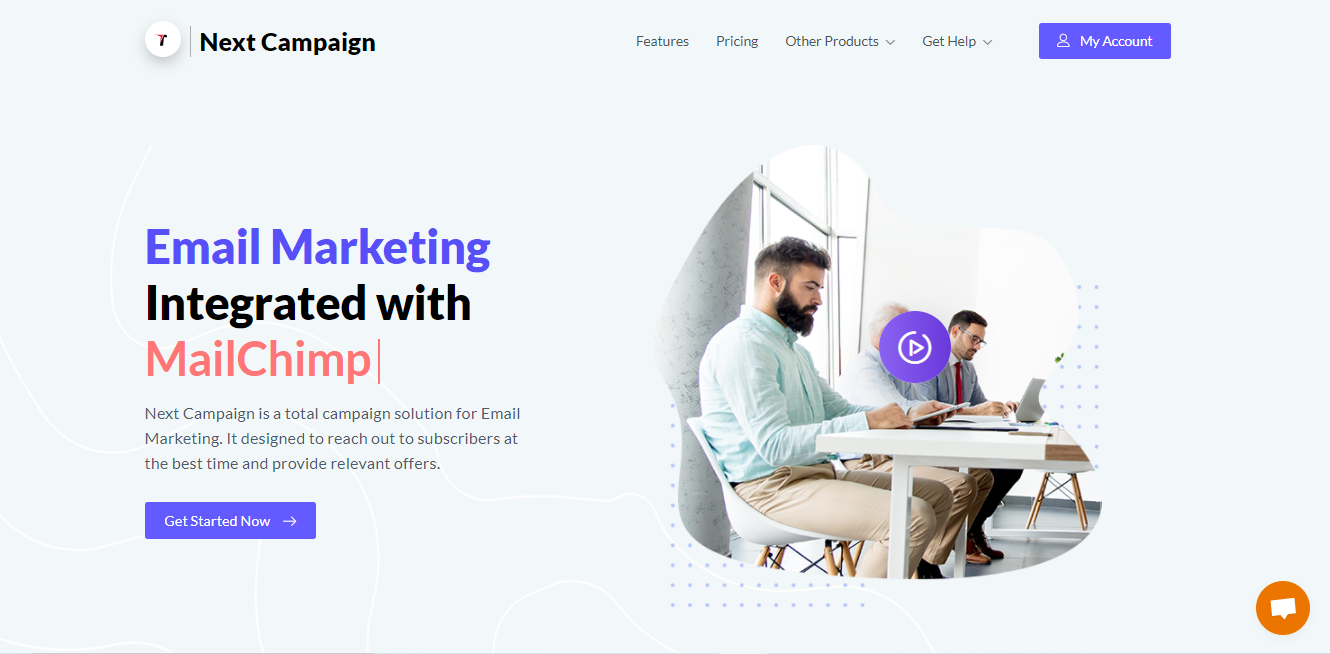 All the Features You Really Need in an Email Marketing Tool
1.Multiple Integration: Next Campaign has multiple integration like MailChimp, MailWizz, SendInBlue, GetResponse and Active Campaign.
2. Simple to Setup Forms : User can build multiple forms with separate integrated provider and able to customize or select preset designs.
3. Manage Contacts : You are able to add and manage contacts with respective address fields under the specific lists item.
4. Manage Campaign : It is very simple to create and manage campaigns by this plugin. User can also design HTML template that is to be sent to Email as a campaign.
5. Easy to Send Campaign : Anyone can send campaign to their targeted customer's Email by selecting specific contact lists. You can send your campaign to thousand of Emails by a single click.
6. Export Import Contacts : User can export and import contacts with three different file format like txt, JSON and CSV.
Start collecting email addresses today with these 29 list-building tactics.
There are a ton of ways to get people to sign up for your weekly or monthly email marketing campaigns — and we've put together a list of some of the best. Start collecting email addresses today with these 29 list-building tactics
1. Include a link to your newsletter sign-up form in the main navigation bar of your website or blog. (Or better yet, include a signup form in the main navigation bar).
2. Create a signup call to action button on your Facebook business page.
3. Create enticing visuals encouraging people to sign up for your list, and post them on social media channels (especially Facebook, Twitter, Instagram and LinkedIn).
4. Attend or exhibit at a trade show or networking event and bring a newsletter email signup clipboard or book. If you're tech-savvy, bring an iPad or mobile device with you.
5. Ask each person you talk with to sign up. Do the same for any business cards you receive.
6. Include a link to your newsletter signup form in your personal email signature.
7. Place a newsletter signup clipboard next to every register if you have a retail store. Have your employees mention the newsletter and emphasize the benefits (exclusive discounts, events, educational info, reminders, etc.)
8. Join your local chamber of commerce, email the member list (if it's opt-in) about your services, and include a link to sign up for your newsletter.
9. Host your own event and request attendees to join your newsletter.
10. Offer a birthday club, and give something special to those who sign up.
11. Incentivize your employees. Give them financial rewards for adding new subscribers to the newsletter.
12. Give something away like samples, a tour, a consultation, a free how-to guide, an infographic or a how-to video, and have people sign up for your newsletter to qualify.
13. Get referrals. Ask your customers to encourage friends to sign up. In exchange, give them a discount.
14. Use Pinterest! Here's a step-by-step guide to building your email list with Pinterest.
15. Post your signup form page on LinkedIn and Themedev.
16. Have a list of postal addresses without emails? Send a direct mail offer that can be redeemed when the recipient signs up for your newsletter.
17. Include a link to the email signup form in your Twitter business profile description. Here's how to edit your Twitter profile.
18. Use a light box or pop-up overlay. When someone attempts to leave your site, the pop-up text will encourage them to sign up.
19. Include a forward-to-a-friend link in all your emails.
20. Use a hosted signup form landing page.
21. Create a tab on your business Facebook page and include an email signup form.
22. Offer "newsletter only" discounts and mention them on your signup form page and on social. Don't use those offers anywhere but in your newsletter.
23. Ask people over the phone. When people call your business, don't hang up until you've asked if you can add them to your newsletter.
24. Put a fishbowl on your counter, ask for business cards and permission to sign up for your newsletter, then do a weekly or monthly prize giveaway of your product and announce it in your next edition.
25. Post a photo of an item or an offer to give away on Instagram. Then, include a link in your Instagram bio asking people to sign up to participate in the giveaway.
26. Include a call to action, a link and a signup form at the end of every blog post you write.
27. Add a link or sign up form in the footer and/or sidebar of your website.
28. Create a Twitter lead generation card to advertise and gain signups for your email newsletter.
29. Include a link or signup form on your company's "about us" page
The only difference between an Email Newsletter and a regular Newsletter is the medium / delivery. When you also add campaign to it, then the expectation is that the Newsletter forms a part of the overall marketing activity. Normally, in any campaign a journey or a road-map is designed keeping in the mind the end objective and involves many tactics. Newsletter can then be one such tactic to connect with the desired target audience.
The another way to collect emails for your newsletter is the WordPress survey plugin. You will be able to create unlimited surveys and collect as many email addresses as you may need. The Survey Maker plugin has various Integrations such as MailChimp, Campaign Monitor, ActiveCampaign. Easily share your email lists to the above-mentioned email marketing tools and enlarge your audience.
But just to clarify, email marketing isn't necessarily the right choice for all businesses. Sometimes it's not the right fit for your target demographic.
And it's not a stand-alone strategy. Newsletters are usually most effective when used alongside other marketing strategies, such as social media marketing and content marketing.
Also, if it isn't done properly, it can be a massive waste of your resources. Before you launch an email marketing campaign, make sure you have:
The right audience. In my experience, it works better to generate your own recipient list, as opposed to buying one. Bought lists are often of low quality, compared to organic email lists comprised of people who have actively expressed an interest in your content/service/product/brand.
The right content. Invest in hiring people who know how to craft a good message. People receive hundreds of emails daily, and you don't want yours to get lost in the shuffle. To avoid being classified as spam, or recipients clicking on the 'unsubscribe' button, make sure your content is designed to provide value, not just grab attention.
The right tools. There are many available tools for every step of the email marketing process, from sending messages to tracking open and engagement rates. At Tenfold, we've designed a system for capturing and integrating customer data from all platforms, like phones and email. That kind of data is crucial in order to assess if your emails are working, and to develop content customized to customer behavior and preferences. If you want to see how it works, just check out our brief Themedev
If you liked this article, then please subscribe to our YouTube Channel for WordPress video tutorials. You can also find us on Twitter and Facebook.