Search engine optimization (or SEO) is a continually changing field. But throughout all recent changes, one thing has remained constant, and that's the importance of content to SEO.
First, page speed impacts your SEO rankings. If there are two websites that are comparable in all other aspects of SEO, search engines penalize the slower website. It is unclear how much of a penalty is applied by page ranking algorithms, however, it is a good idea to optimize every aspect of your Website Speed.
Essentially, content optimization, or SEO (search engine optimization), is the process of optimizing your content to make sure that it's more visible through the web. Search engine robots will rank highly optimized content higher on a search engine page than non-optimized content. Optimizing a website involves many nuanced details, and search engine robots are weighing everything from content to HTML to backlinks.
Topic identification & organization
Focus keyword optimization
Quality of content
Content length
Content updates
As cliche as it may sound, there's a lot of truth about it. SEO and content are interconnected.
Topic identification & organization
Your content strategy should be based on a proper understanding of your niche and the needs of your audience.
We've covered the first step in this process – finding the right keywords – in the previous chapter. The second step is identifying the topics.
Now, many times the keyword is also a standalone topic. But it's not always like that.
Let's say you run an online marketing blog and you'll find several keywords like:
how to start a blog
how to create a blog
how do you start a blog
how to start your own blog
It would make no sense to create a separate post for each of them. Instead, we group them into one topic – how to create a blog – and cover it in a comprehensive guide that could potentially rank for each of these keywords.
How to organize the topics?
A great way to plan and organize your topics is to use the so-called content hubs.
A content hub is a collection of pages that are all related to a certain topic.
The pages are interlinked and provide a general overview of the topic as well as deeper insights into the sub-topics.
Focus keyword optimization
Once you have a focus keyword, you should use it to optimize your page for the given topic.
The possible elements where you can use the focus keyword:
Title tag and meta description
URL
Heading and subheadings
Body text
Image metadata
Anchor text of the internal links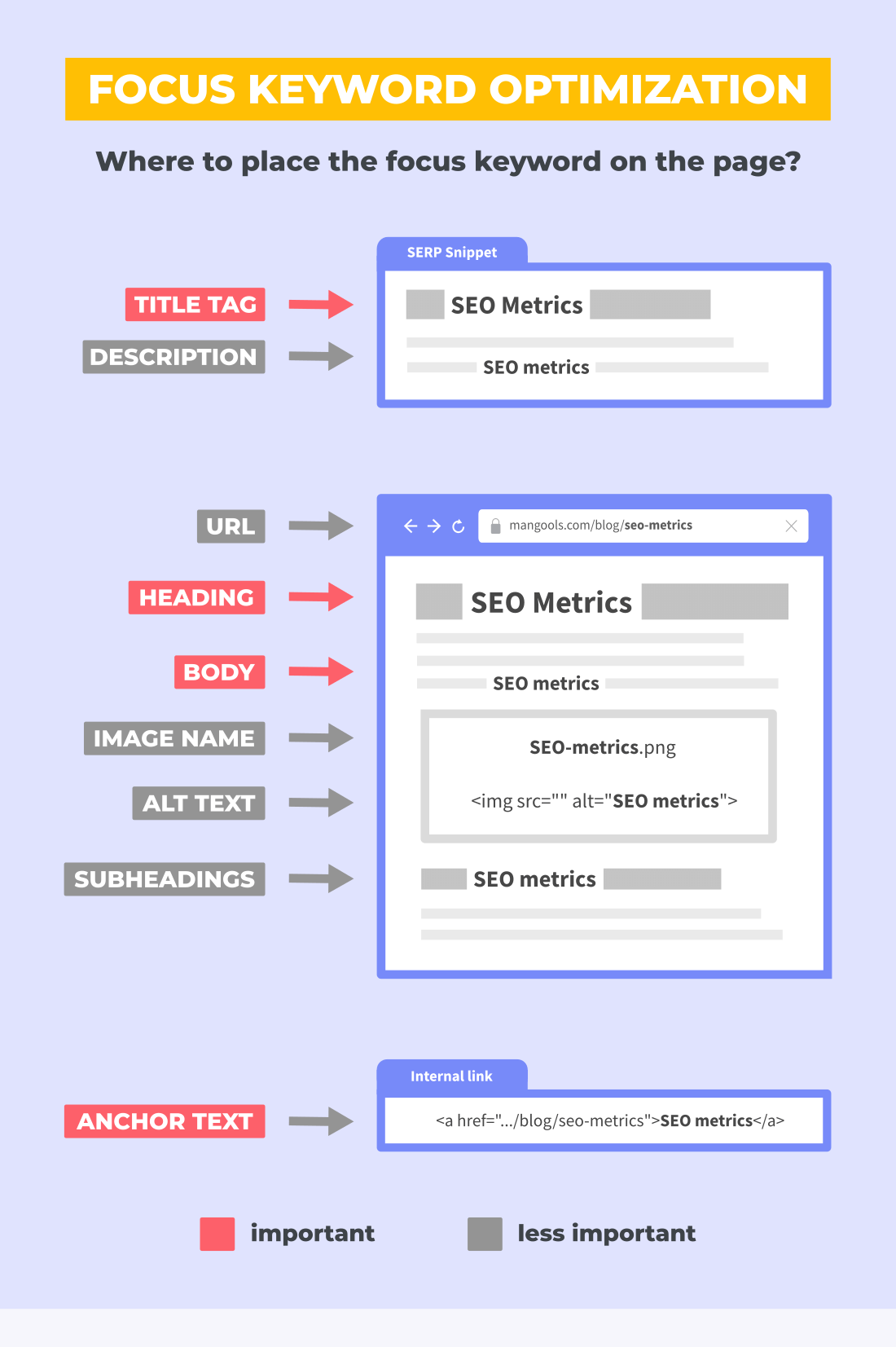 Title tag and meta description
Page Titles and Meta Descriptions are short pieces of HTML code found in every web page. They show the title of the web page and its description, similar to the title and blurb on the front and back of a book. They tell you what the book (or page) is about before you open it (or click the link).
Page titles and meta descriptions act as a short summary device that internet users can use to decide whether the page listed in a search engine's index contains the information that will answer their query
URL
Your URLs should be short and easy to read. It's not the most important SEO factor, but it can help.
One of the benefits: If someone links to your page with the so-called "naked URL", the backlink will include your focus keyword.
Headings and body text
It is best practice to use your focus keyword in the H1 heading of the page. If appropriate, it may be used in some of the subheadings.

You can actually do more harm than good by trying to use the keyword a certain number of times in your text.
Image metadata
You can insert your focus keyword into various image metadata, namely:
image filename
image title
image caption
image alt text
The alt text is the most important from the SEO point of view – it describes the image for visually impaired visitors as well as crawlers (that can't "see" your image either).
Quality of content
Nowadays, ranking for almost any keyword is much harder than it was in the past – most niches are oversaturated.
But there's one strategy that works perfectly – creating content that is 10x better than your competitors, also known as the "10x content" strategy.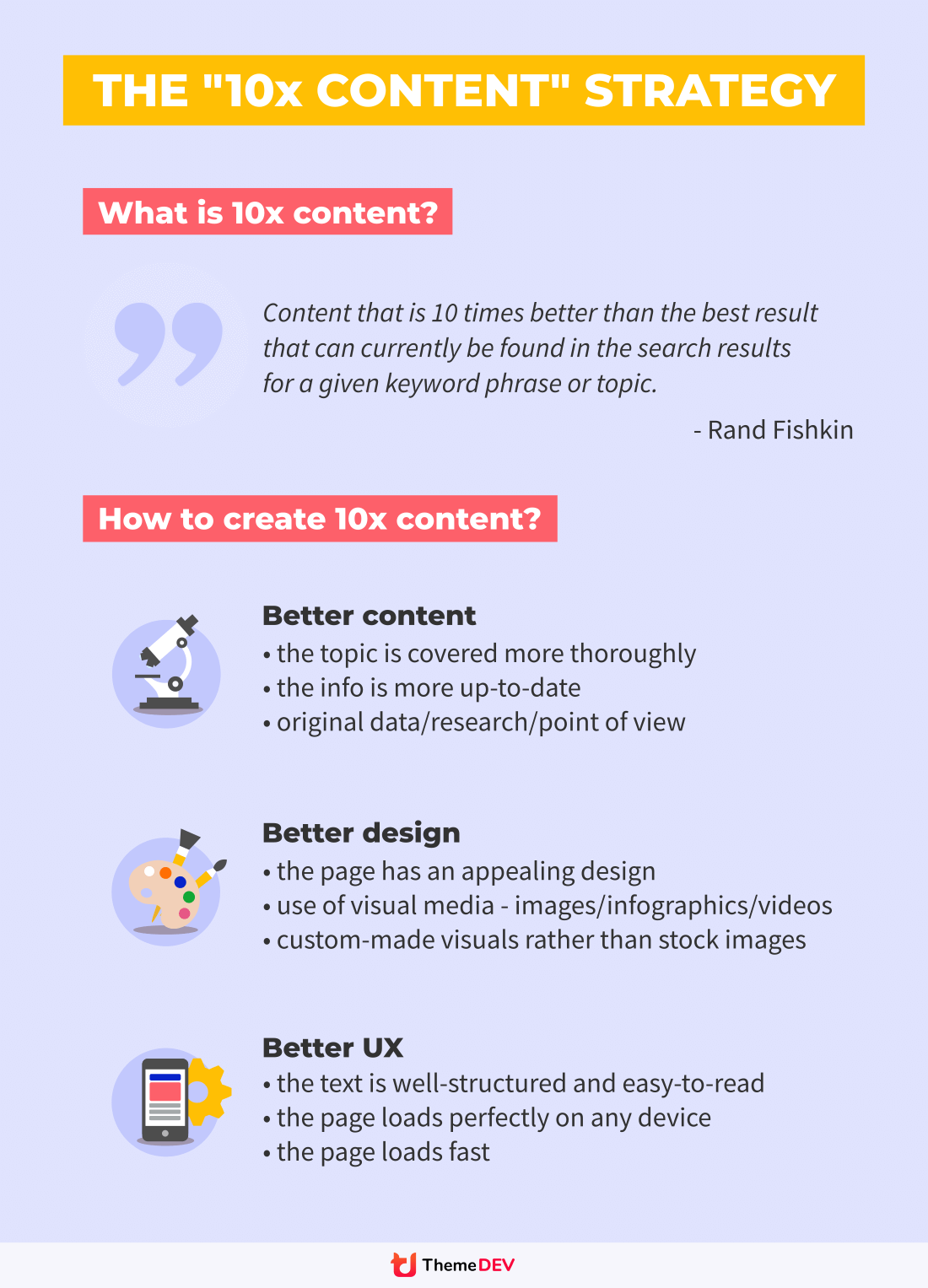 Better quality
Cover the topic more thoroughly than your competitors (you can literally look at the top-ranking pages and try to figure out what can be done better)
Provide more up-to-date information and data
Provide more expertise (feature insights from experts in your niche) and trustworthiness (cite trusted sources)
Be original, use unique data, provide new angles, do experiments
Link to other relevant resources of high quality
Better design
Use a unique layout for your most important pieces of content
Add visually stunning media (illustrations, infographics, charts, gifs, screenshots, videos)
Use your own illustrations and avoid stock photos
Better UX
Make sure the text is readable (font type and size) and free of grammar errors
Avoid walls of text – write short, easy-to-digest paragraphs
Use navigational elements (e.g. table of contents) for longer pages
Use quotes, info boxes, bulleted lists, bolded sentences
Optimize the technical aspects (more on that in the next chapter.)
Content length
Many people think that content length is one of the ranking factors. There's a well-known study by Backlinko that shows that posts with about 2,000 words ranked better in Google.
So how to approach the content length?
Look at the average word count of the pages that rank for your focus keyword to give you a rough idea of how long the content should be.
Cover the topic in a comprehensive way that covers everything a potential reader might want to know.
Always keep in mind that a high number of words alone won't improve your rankings. Focus on the quality of content, not just quantity.
Content updates
Content decay is a real thing.
No matter how successful a piece of content is, there's a big chance the traffic will gradually decrease unless you keep it fresh and updated.
Andrew Tate noticed that many successful blog posts share the same traffic curve and described this phenomenon as the 5 phases of the content lifecycle: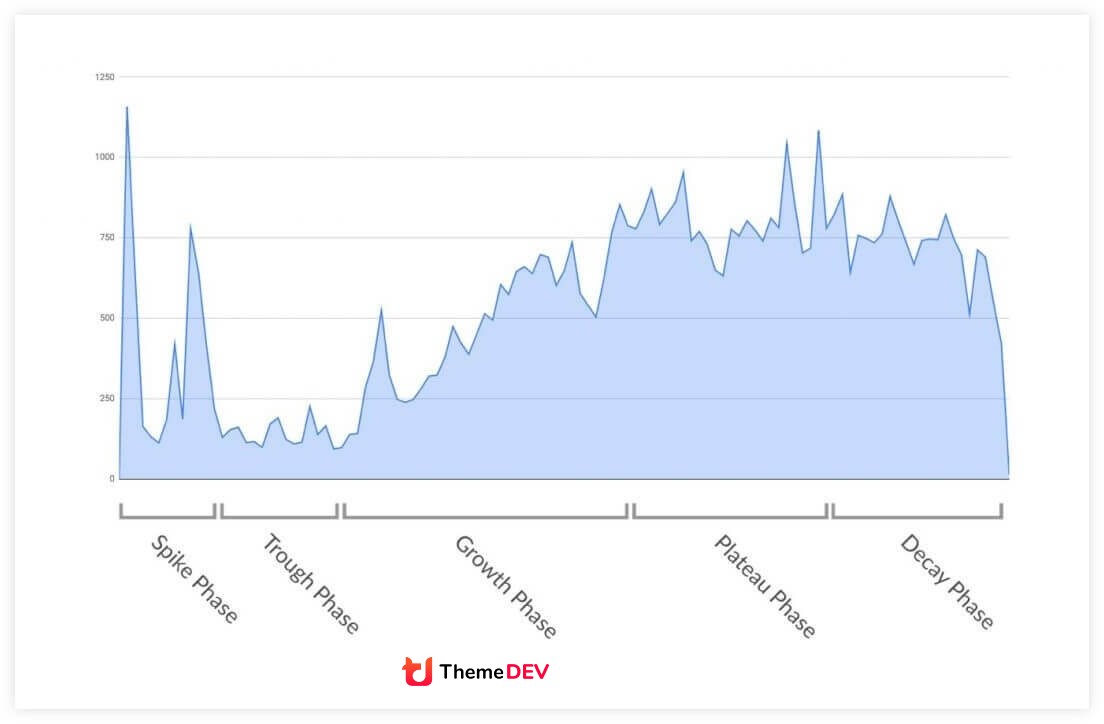 If you liked this article, then please subscribe to our YouTube Channel for WordPress video tutorials. You can also find us on Twitter and Facebook.