Woo-commerce Builder It allows you to build your shop, product details, cart, check out, my account, and thank you pages without even touching a single line of code! This plugin has 34+ custom addons for WooCommerce to build the page using the next addons page builder. With all of these addons, you can build anything you can imagine. Forget about the tedious design of WooCommerce and use WC Builder to build your very own design.
What is WooCommerce?
WooCommerce is a free WordPress plugin that adds e-commerce functionality to your WordPress website so you can have an online store. With just a few clicks, your WordPress website turns into a fully functional e-commerce website. WooCommerce is a plugin that integrates easily with your existing WordPress site, turning your site into a fully functional WordPress e-commerce website with just a few clicks.
What Does WooCommerce Do?
WooCommerce provides basic store functionality right out of the box, with a free plugin available from the plugin repository, or right from your WordPress dashboard. While it has hundreds of available extensions—more on that in a NextWoo!—it offers some incredible functions right out of the box.
What to look at in your WooCommerce builder?
For everything, there are standard determinants. Builders for WooCommerce are included in this list. These determinants will help you determine the quality of your chosen builders.
Before you choose a builder for your WordPress site, observe the following:
Lightweight and flexible plugin.
A WooCommerce builder that has high device responsiveness.
Easy drag and drop customization.
Boundless editing features.
It offers different layouts for your site.
Provides WooCommerce custom templates.
Has a free version so that you can try it out on a staging site.
your website's speed.
From start to end website editing option.
It means providing editing functions from the product page to thank you page.
Cost-effective plugin.
I can suggest that you can use this.
NextWoo is a WooCommerce Builder to build Single Product, Cart, Checkout, My Account, Shop Loop, Related Product, Quickview, Up-sell, Cross-sell with Elementor or Gutenberg.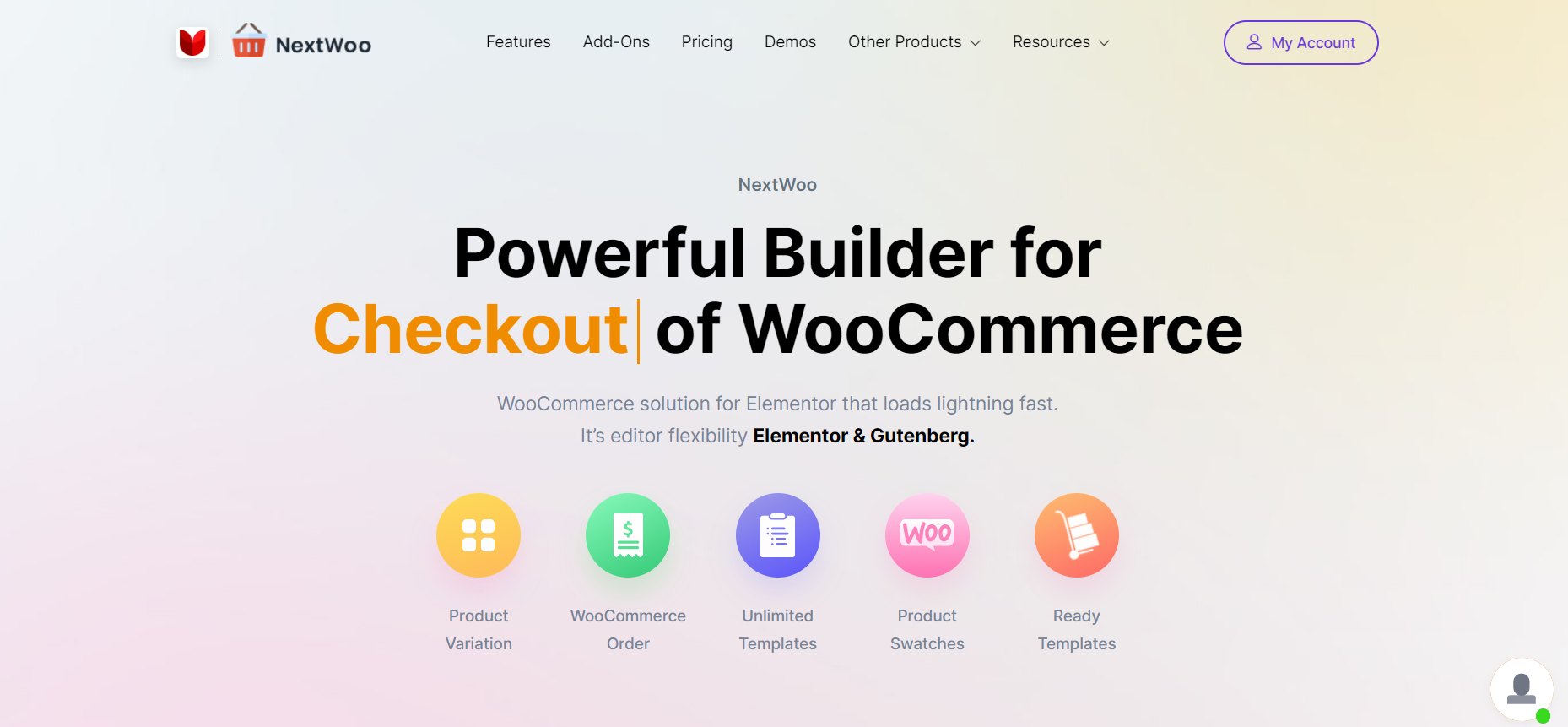 NextWoo Powerful Features:
Friendly Functions
'Say No' to Code
Friendly Support
Theme Compatible
Easy to Customize
Editor Flexibility
Easy to Import Demo
On Click Install
Extraordinary Features of NextWoo:
Create unlimited templates for WooCommerce customization: You can create unlimited templates for Single Products, Shop Layout, Archive Layout, Checkout, My Account, Cart, Related products, and more WooCommerce pages.
Set preset woo templates by clicking. With a single click, you can set Woo layout templates from pre-built designs. It will surely save you time.
Build templates with Elementor & Gutenberg: NextWoo offers Elementor & Gutenberg to build or customize beautiful woo templates. There are 100+ widgets and blocks available for both Elementor & Gutenberg editors.
Supports multiple product types: Easily build variable, grouped, subscription, and simple product layouts using Elementor | Gutenberg Widgets.
Construct versatile shop page templates: Use the Shop widgets to craft a decent template that presents all products in the best light. Get extra features like: AJAX add to cart method, Quick View, Compare Button, Wishlist, Image Slider, and so on.
Custom Checkout page template: form a beautiful checkout page that is fully covered with order review, billing, shipping, and payment information.
Built with a Success template: Build and apply a Thank You page to complete the purchasing process that contains the following formalities: order details, order, customer address details, and more.
Building related product templates: Build related product templates by using shop layout into the single product page.
Extra Addons of NextWoo Plugins. You can use for extra features to extend WooCommerce.
Woo POS (Point of Sale): You can see the POS system in your WordPress dashboard. POS will manage your selling system and generate sales reports.
Product QR Code: Add a QR code to the product page and allow customers to purchase it by scanning the code from their smartphone.
Pre-sale order: The customer can request the product order according to his demand. If he wants, he can reduce the price of the products.
You can send an offer letter to your target customers on your products via email marketing.
PDF Order Template: You can provide order details to customers by PDF file with additional information about your company
If you liked this article, then please subscribe to our YouTube Channel for WordPress video tutorials. You can also find us on Twitter and Facebook.