Marketing experts agree that marketing the content to your intended audience is an absolute must for every business with a website.
However, marketing your content to your potential customers isn't something you really naturally pick up on. Because content marketing needs something more than just that: a high level of expertise and skills.
So how can you simply get there?
You can achieve this by:
Writing guest posts on popular websites within your industry
Publishing a weekly newsletter with helpful tips and tricks your audience can use
Commenting on other blogs where people are talking about issues related to your business
Putting together a podcast or webinar series that delivers value to your audience
You see everything in content marketing revolves around the word ''CONTENT''. So, if we define content in the context of marketing, it simply comes up like this;
Content marketing is a strategic marketing approach that clearly focused on creating and distributing valuable, relevant, and consistent content to attract and retain a clearly-defined audience — and, ultimately, to drive profitable customer action.
If you want to create content that stands out from the crowd, all you need is more than just a competent skill set.
Because…
There are plenty of online cutting-edge content-marketing tools you can use for free. So, next time you doubt your content marketing skills or do not have time for manually doing it, use this list of solutions to wow your readers and drive revenue like crazy.
5 Tools to Make the Job Easier for Content Marketers
For content marketers, time-consuming content research methods to generate and then edit the content demands a couple of hours, if not days.
To save time while doing this job better, easier, and more efficiently, you need some assistance from online powerful tools, better to be called content marketing tools.
Otherwise, you'd be wasting a lot of time performing tasks manually that could be automated – or at least made much quicker and more effortless.
Here are five content marketing tools that will help you execute your strategy and make the most of your content.
So, let's dive in.
The first on the list is the best tool to save time on the content research process by listing down some high-ranked blog posts based on the targeted keywords you searched for.
Put simply, Buzsummo is one of the top content marketing tools used for detailed content ideas and analysis.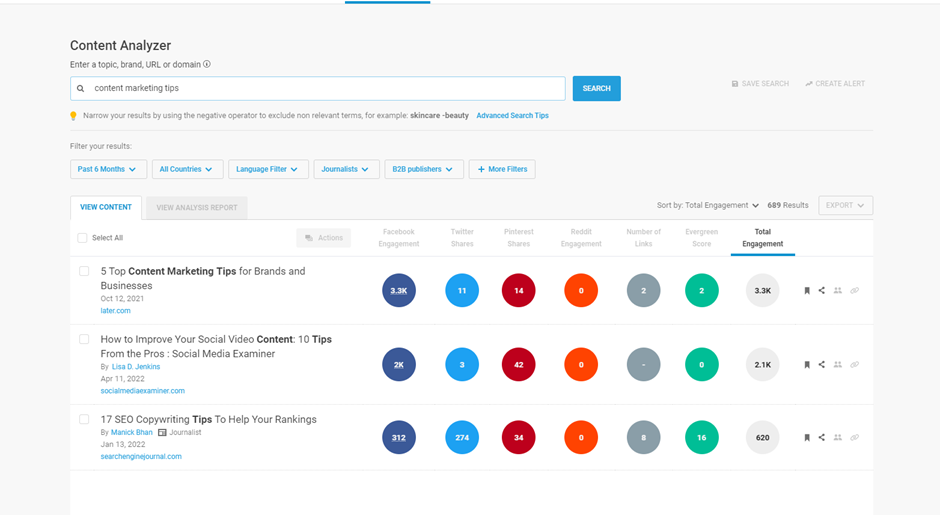 With BuzzSumo, marketers can easily find and evaluate the most relevant content and blogs in their specific niche. When it comes to understanding what makes popular content so useful to their target consumers, marketers may quickly access a variety of interesting insights presented in graphical format which include.
Content analyzer: comb the web and come up with the most relevant content for unlimited searches.
Content analysis reporting: this report help conducts deep competitive analysis.
Advanced search: conduct more in-depth searches.
You can then sort the results based on how widely they've been shared on social media sites like Facebook and Twitter. Use these results to search the internet for content ideas that excite the attention of your target audience.
You should consider using BuzzSumo if you are serious about building your brand's authority, attracting targeted visitors, or expanding your company's reach.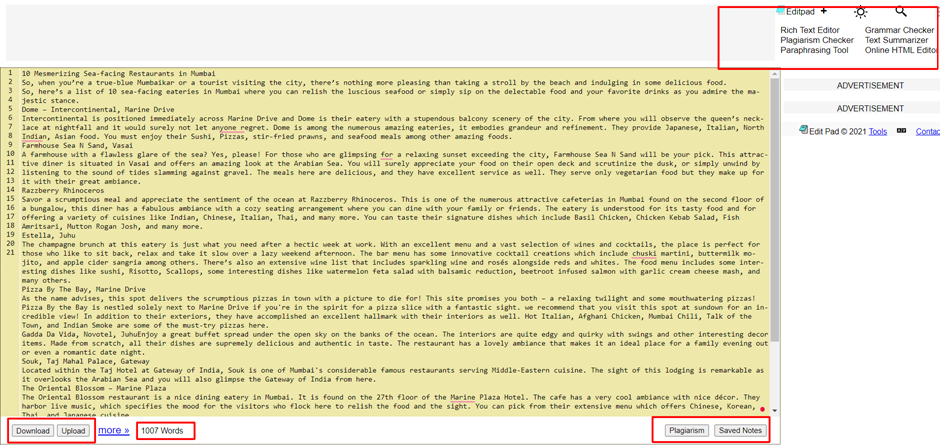 It is a web-based word processor offered by editpad.org. It is completely free and offers a much more basic approach to editing than Microsoft Word. This might sound like a disadvantage, but honestly, it's actually one of the biggest advantages of this free text editor.
It offers a wealth of features, including word count, character count, download, and more. You can also upload and save documents in multiple formats like .docx or .pdf.
The next best thing about editpad.org is that you can check the text's grammar and plagiarism at the same website– all you need to select the tool on the upper right nook and your files are ready to be checked for grammar mistakes and duplication issues.
And the last thing that is worth mentioning is that this free word processor offers free mobile applications both on android and iOS.
Hemingway App is a great tool for content writers because it helps you write better prose by flagging adverbs, passive voice, and dull sentences. It is a tool that will help you write simpler and clearer sentences.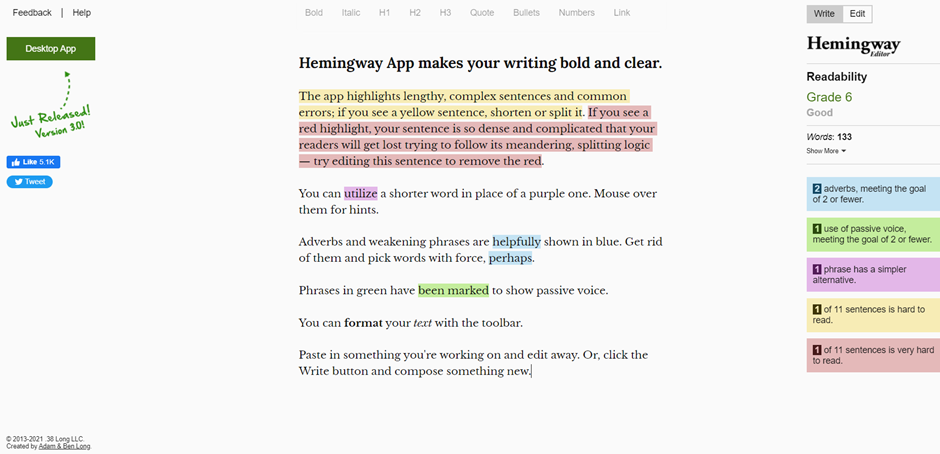 The app highlights sentences that isn't clear, overly complex, or hard to read, so you can rewrite them in a way that's more accessible to your audience. '
This tool also lets you know which words you should replace with shorter ones and gives you suggestions on how you can make your writing bolder.
You can also use it to check for readability, so it's perfect for everything from blog posts to sales letters.
It's super simple to use, too: just paste your text into the Hemingway App and let it analyze it for you.
To sum up, it possesses the following features:
Readability score
Word suggestions
Formatting features
Writing and editing modes

If you're not using Google Analytics, you're missing out on a valuable tool to help you improve your content strategy. The free analytics tools allow you to see which of your content is performing well and which isn't. You can use this information to make better decisions about your other content.
With Google Analytics, you can quickly track data like page visits, session length, and click-through rate. This can help you find the sorts of material that are most popular among your current customers.
So, if your email marketing articles work better than others, using this tool you can further focus on them to see even greater results.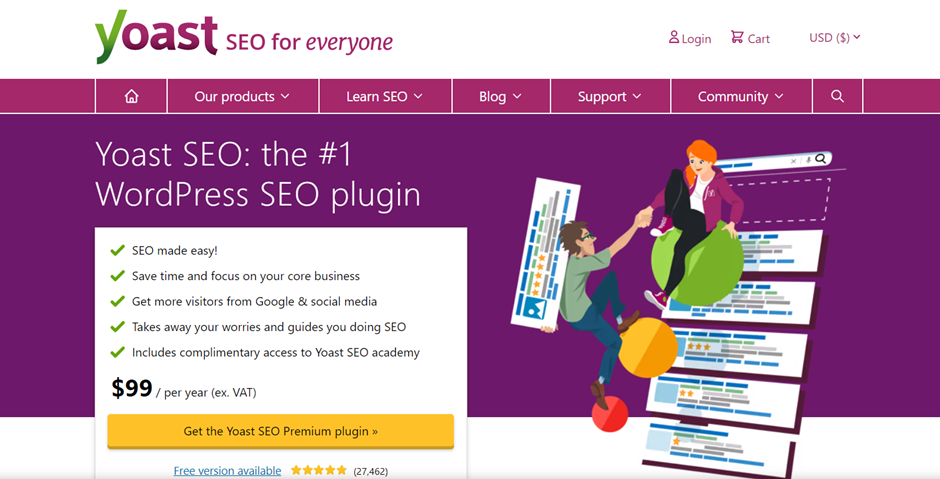 Content goes hand-in-hand with SEO and Yoast SEO. It is one of the best tools available for optimizing SEO for WordPress websites.
It will tell you how well your page will perform in search results based on keywords, meta descriptions, readability, and internal links. It's easy to use and helps you reach a higher position in Google's search results.
How?
Well, this SEO plugin can help you rank better in Google search results through a powerful set of tools including a snippet preview, content analysis, and focus keyword evaluation. This helps you optimize your website's content to ensure it will show up on top of search results.
Conclusion
Undoubtedly, content is at the core of your content marketing strategies. Whether you run a small business or have a personal blog, you need tools to help you write, edit, and publish your content online.
Luckily, there are lots of free content marketing tools that can help you with everything from writing, and editing to keyword research, SEO optimization, social media engagement, and more. Consider these above-mentioned tools when needed and see your content marketing growth over time.
If you liked this article, then please subscribe to our YouTube Channel for WordPress video tutorials. You can also find us on Twitter and Facebook.